School & Teachers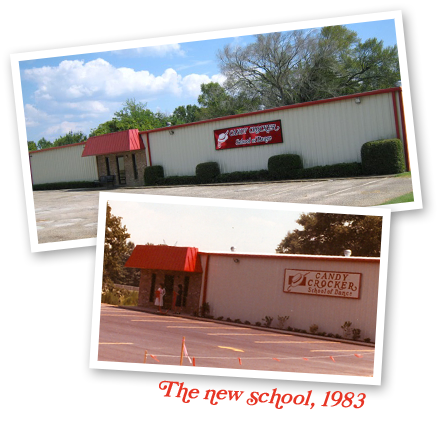 About the Studio
Welcome and thank you for your interest in Candy Crocker School Of Dance.  In business since 1977, we are proud to be known as a "Tyler Tradition." Whether you are a beginner or an aspiring professional, our studio is sure to offer a class you will enjoy.  Thank you for choosing Candy Crocker School of Dance, and let us know what we can do to make your dance experience "Fabulous!"
---
A Brief History
Candy Crocker Jordan first opened the doors in 1977. The studio was located on The Old Troup Highway, and the new studio, located at 9914 County Road 2331 just off Highway 110, was built in 1983, and has become a home away from home for so many young dancers.
In 1980 The Candy Dancers were formed from a small group, eager to learn and anxious to excel. Many of our dancers have continued to study and perform on Broadway in New York, in Nashville, and Las Vegas. They have become Tyler Junior College Apache Belles, and Kilgore College Rangerettes, Officers, and Captains. They are members of Texas Tech University, University Of Texas, North Texas, and Stephen F. Austin Pom Squads, and The Dallas Cowboys Cheerleaders.  Many of them are now dance teachers and own their own studios.  Our biggest compliment is that many of our current students are second generation Candy Crocker Dancers.
---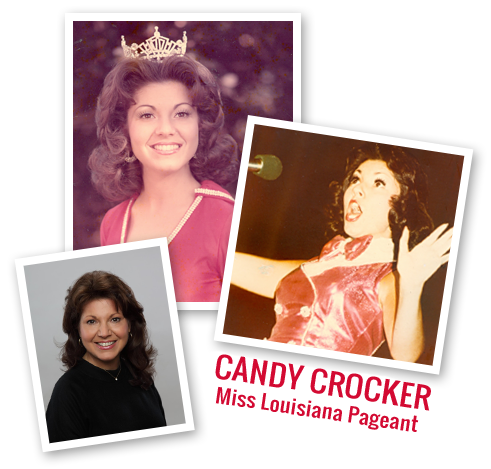 Meet the Teachers
Candy Crocker Jordan
Candy Crocker Jordan has studied dance her entire life beginning in Woodbridge, England.  She was proud to be named The World's Ideal Miss, Miss Tyler, and Miss Louisiana.  One of her most memorable performances was on the stage in "Atlantic City" at "The Miss America Pageant".  She graduated from Tyler Junior College and Southeastern Louisiana University with a degree in Education.  She was on the Dance Faculty at Tyler Junior College for 25 years, and choreographed numerous musicals.  She served as choreographer for the "Harmony And Understanding" pop group, guest choreographer for the Nationally Famous Apache Belles, and received many choreography awards.
Candy teaches not only dance steps but also performance skills and life lessons.  Her students have been recognized in National Dance Competitions, and have received dance scholarships and overall awards.  One of her greatest joys is seeing her students perform on the stage.
---
Dana Sepko
Sarah Worthen
Shurelle Wiebe